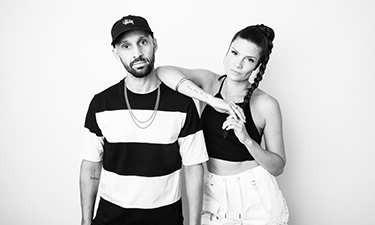 Canadian DJ/production couple, Average Citizens "bring only the best wobbly basslines, booty-shaking vibes, & bouncy goodness to the underground scene. Their enticing stage presence & high-energy performances will leave you sweating & begging for more." [Fresh Music Freaks].
"Infusing hip-hop elements with future house & a smattering of UK-inspired bass, Average Citizens infectious, carefree style is irresistibly danceable." [DJ Mag]. They have over 25 releases under their belt on labels such as Ghetto Ghetto, UFO Recordz, Westwood X, and Sheppard Records. Alongside several chart-topping releases, they've hit #1 twice & frequently receive Banner and Feature support on Beatport. Their music has been placed in several Spotify Editorial Playlists, such as Bangers & Fresh Finds & has been supported by artists like AC Slater & Dr. Fresch. Recently, Average Citizens released a mix with Confession Label and got airtime on Diplo's Revolution [Sirius XM] & Kiss FM [Bristol]. They've spent the past year sharpening their skills in the studio & can't help but feel like they're just getting started!
Average Citizens maintain a solid tour schedule on the west coast, getting booked for festivals like Shambhala, Astral Harvest, Wicked Woods, One Love Fest (California) & Genius Loci (Baja, Mexico). Starting to gain the attention of a global audience, they've played shows in the US, Spain, Mexico, Taiwan, Germany, England & Ecuador.
Spend some time with Average Citizens & you'll quickly learn that they operate out of pure love & integrity. They are the co-founders of the Rise & Shine FamJam Fundraiser, a festival that donates 100% of proceeds to charity. The love & passion Average Citizens have for their craft & for each other is undeniable & transcends everything they do!
Upcoming Events